2 More Things Of Importance!

#1. You must verify your email address before I can send you anything. A verification email has been sent to your inbox. Please open it now and follow the instructions.
#2. I'd like to make you an offer you can't refuse :)
I'm so confident that our MetaStock Programming Study Guide will make you an overnight success with MetaStock, and ultimately take your trading to the next level, I want to do whatever I can to get you started asap.
I'm going to knock 10% off our most popular product and completely back your purchase with our 100% money back guarantee.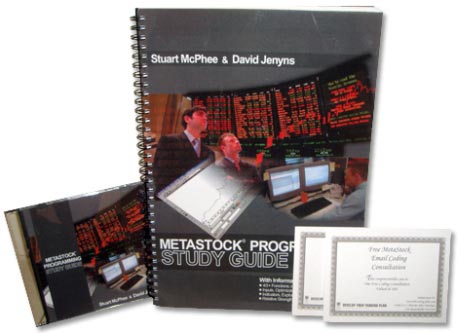 Here's the catch... This offer is only available to new, first time subscribers and once you close this window you will not be able to order this offer. It's only for those serious about improving their MetaStock skills.

To read about more about the study guide click here but don't close this page! You must order below to get your discount.

Only $297AUD $267AUD

+ $24.95 worldwide shipping

We use "Paypal" and our own in house merchant facilities - depending on which method you select. All credit card orders will be processed in Australian dollars. All orders are processed manually and as such can take up to 48 hours to complete.
In summary, whether you're in a position to take advantage of this offer or not, I look forward to helping you master MetaStock.
If you have any further queries email me by clicking here
Your *New* MetaStock Coach,

David Jenyns
MetaStock Pro, Professional Trader, Author & Coach.